Telehealth Cybersecurity - Lock the Front Door
Thursday 26th November, 6 - 7 PM (AEST)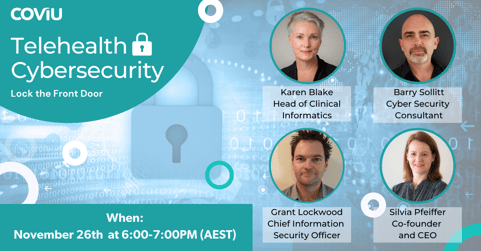 What will we cover?
Why cybersecurity is more important than ever in the current climate

In what form do data attacks occur and what is the motivation behind them

What are some specific actions you can take to secure sensitive patient data

What is ISO27001 and ISM and how does this relate to system security

What to look out for when making a decision to use a specific provider for delivering or supporting digital health

Information privacy with HIPAA and the Australian Privacy Principles

What is the future of Australian/NZ digital health cybersecurity standard




We also look forward to hearing your questions and comments in the live Q&A section of the webinar.
Please note, this webinar will be recorded.
Webinar Panel:

Karen Blake
Head of Clinical Informatics - HealthAlliance NZ
After 20 years spent in the health sector in both Australia and New Zealand, Karen Blake brings with her a unique insight into the uneasy marriage of health and IT systems. With experience in senior policy work, management and education, Karen now works full time as a head of clinical informatics for healthAlliance.

Barry Sollitt
Cyber Security Consultant - AC3
Barry is a highly experienced IT professional with over 20 years' experience in the Information Technology Services industry. He has been a senior manager of Operational and Engineering teams with Information Security and ITIL practises embedded throughout the delivery of internal and external managed cloud environments.
With a firm technical bedrock in delivering secure Private and Public Cloud Solutions and Services, Barry is now currently focused on Cyber Security Governance and Compliance Consulting services for AC3.

Grant Lockwood
Chief Information Security Officer -DHHS, Victoria
Grant's 20-ish year IT career has taken him from education to high performance sports to managed services before landing in healthcare cybersecurity, where he now finds himself advising a range of hospitals and business on improving their security posture. His hobbies include skydiving, astrophysics, and lying in biographies.

Silvia Pfeiffer
Co-founder and CEO - Coviu
Silvia has more than 15 years experience with Web video and has worked for Accenture, Google, Mozilla, NICTA and CSIRO. Coviu is her second startup. She co-edited standards that made video a prime citizen of the Web and underpin Coviu. Silvia has a PhD in computer science, a masters in business management, has published two books on HTML5 video, and one on video consultations for healthcare businesses.